It's easy to get started with LianLian Global. Click here to create an account.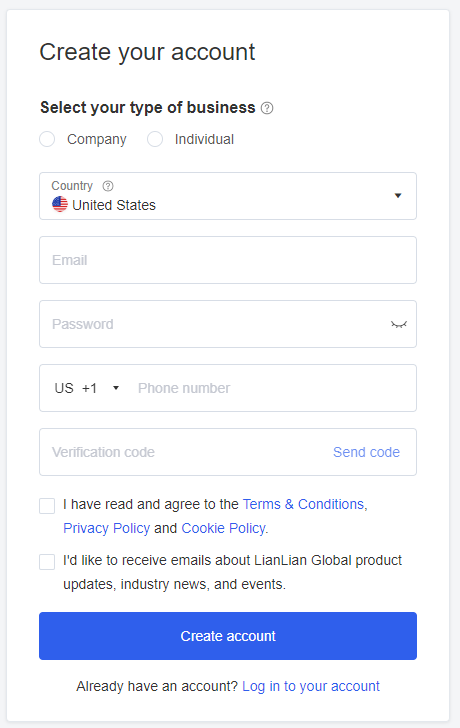 We'll ask for your:
Business type

Email address

US mobile phone number

You'll need to click "send code" to receive a unique code to verify your mobile phone number. Once received, simply enter the 6-digit code in the "Verification code" field.

A unique password (at least 8 characters, with at least 2 letters, numbers or symbols)
You'll also need to agree to our:
Verify your mobile phone number
Verifying your mobile phone number is required to keep your LianLian Global account safe and secure. To verify your number, follow these steps:
When you create a LianLian Global account, you'll be asked to enter your mobile phone number on the

sign up screen.

Click

Send code

in the verification code field.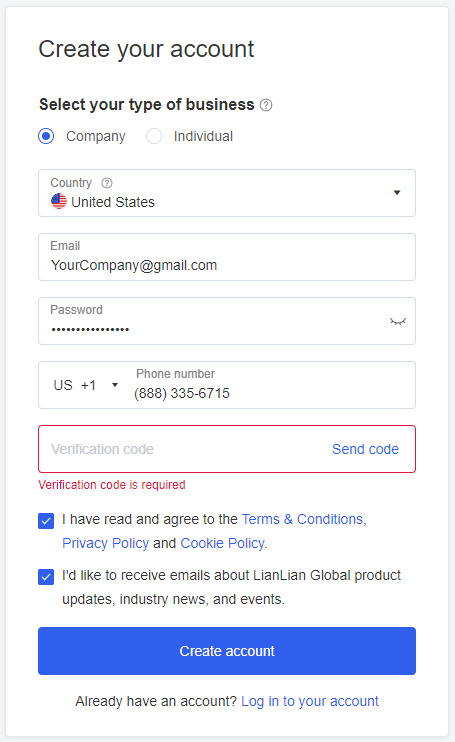 Complete the captcha puzzle to receive a mobile verification code. The puzzle will request a task such as 'select images that resemble this object.'

You should then receive a text message to your mobile phone number with a 6-digit code.
Enter this 6-digit code in the "Verification code" field, agree to the Terms & Conditions and click Create account.

Your mobile phone number will now be verified.
Verify your email address
Verifying your email is required to start using LianLian Global. When you sign up for an account, you'll automatically receive a verification email in the inbox associated with your sign-up email. If you don't see an email, please check your spam folder.
Open the email and click the verification link to finish verifying your email.
Note that the verification link will expire within 10 minutes. If 10 minutes has passed, you can send a new email verification link by logging back into your LianLian Global account and clicking Resend at the top of your dashboard.
If you have any issues setting up your account, please contact our customer support team.