You can withdraw funds to your registered bank accounts manually or save time using the automatic withdrawal feature.
Go to your account dashboard and hover over 'Settings' in the top navigation bar and click Bank accounts.

On the Bank accounts page, find the account you wish to withdraw funds to automatically and click on the three dots next to the account. On the drop-down select 'Enable Automatic Withdrawal'.

A pop-up will ask you to authorize the automatic withdrawal - read and click 'Confirm'

The next screen will ask you to select:

the frequency of withdrawals (Daily, Weekly, or Monthly - will be actioned at 10 pm on the chosen day or first working day of the week/month)
The currency(ies) you would like to withdraw to the selected bank account.
The radio button will automatically be set to turn ON automatic withdrawal.
Note that we only allow withdrawal in USD, so non-USD balances will be converted to USD prior to withdrawal, and for each currency, you can only set up an automatic withdrawal to one bank account.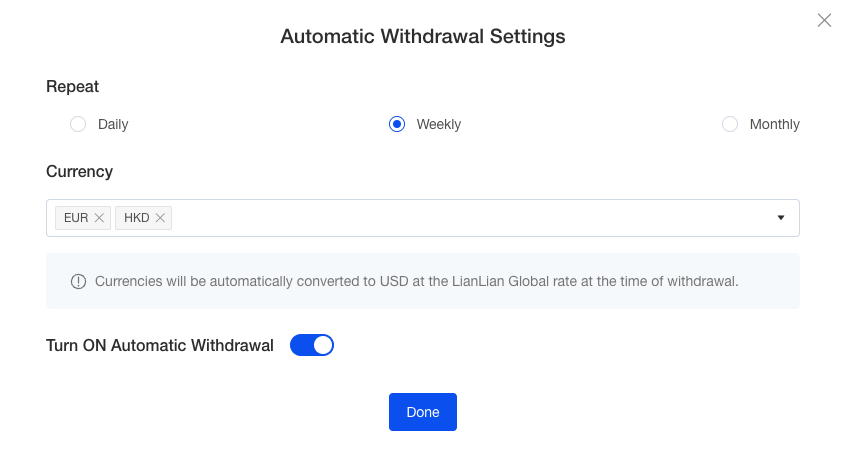 Once you have finished, click 'Done'. From here you will be asked to complete a security check by entering the security code sent to your mobile.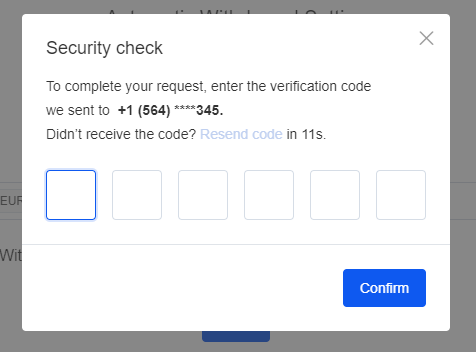 Once complete, you will be able to see which accounts have automatic withdrawals set up by looking for the 'A' symbol on the top left of each bank account on the Bank accounts page.

To edit the automatic withdrawal, click on the three dots next to the account. On the drop-down select 'Edit Automatic Withdrawal'. You will need to complete steps 3 and 4 above with the desired changes.